Aero Business Solutions (ABS) Reviews
Learn what it's like to work with Aero Business Solutions (ABS)
Curious about what it's like to work with Aero Business Solutions (ABS)? Explore our more than 20 client reviews & testimonials and experience the impact of revenue generation web design & SEO services from ABS.
Start exploring ABS reviews now! You can also contact us online or WhatsApp us at +91 99166 79810 to chat one-on-one about your business and its online growth goals.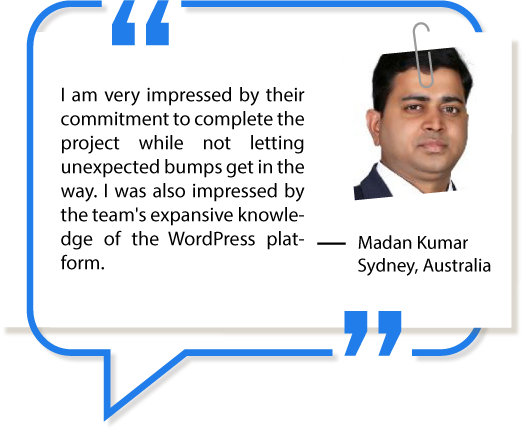 "It was a highly professional approach. ABS informed me about the project timeline and the trial version of my website was ready on dot. They also understood how the website should look actually and created something better than that."
K. Parmeshwar
Chidibaaz, Pune
Really satisfied with the work done on the website by the company and especially Ahmed who is very responsive and professional. Work on the website was completed in time looked beyond our expectations.
Aakash Negi
Acute Advisory, Ontario - Canada
"Very professional work done, on time as per my expectations at the best unexpected price Mr Ajay has been very efficient at his work, always available to help with all our requirements , he gave me an extra page complimentary also which I am thankful for"
Bahar Yawazy
BaharYawazy.com, Kabul
I am very impressed by their commitment to complete the project while not letting unexpected bumps get in the way.
Madan Kumar
sensen.ai, Sydney - Australia
"Professional work ethics and reliable in a decent budget. I surely got value for the money i paid . Thankyou mr ajay and team...thankyou for a confident work. I am very satisfied with your services"
Vinit Mane
Rico Avocado, Mumbai
"We are very happy with our website project done by team Aero. Very elegant n classy work. Thank u."
Kinjal Shah
Quinn FM, Mumbai
"Professional, on time and best in business. I highly recommend Aero Business Solutions."
Manoj Padaliya
HMP Worldwide, Delhi
"Very committed & classy work...we wish you great success"
Rajiv Sanghvi
Quinn FM, Mumbai
"Awesome services with the best possible rates. Ajay has been exceptionally good throughout the project. Reliable services with prompt response and way creative"
Saurabh Gupta
Chiso, Bangalore
"Very professional and very receptive to feedback. Overall experience was great."
Shweta Kumar
School Of Examploration, Australia
"A good team of professionals who delivered the project on time. Great job done by you guys!"
Priyanshu Mishra
Chiso, Bangalore
I had searched for a number of people for my website before landing at aero busines solutions. I was of course attracted by the price that was quoted to me along with really good samples of websites that Mr. Ajay shared with me. I had specific fonts, colours, fonts family selection that i needed for my website. Which was thoroughly fulfilled by ABS team. Cheers to that.
ABS is highly professional, values customer, their time, their requirements and needs and in all serves in the best possible way.
I highly recommend ABS for your business needs.
Arjit Gandharva
Metal Cat Music, Noida
Thanks ABS team for getting our latest project done within time and budget. I sincerely appreciate your customer service and prompt response whenever I needed.
It's a pleasure working with you.
Depindra Singh
Last Node, Delhi
I was searching for website development company near me and came across ABS. Ahmed was very professional and helpful throughout my project. My website was completed on time and as per my expectations. Overall I would say it was good working with ABS.
Jitendra Choudhary
Bangalore
Very professional interaction with the Customer Relations Executive and good work done by Aero team in developing our website. I have recommended them to a couple of people.
Great work. Our company's new website looks professional and neat. Much more affordable than other web-design companies.
A good team of professionals who delivered the project on time. Great job done by you guys!
Priyanshu Mishra
Chiso, Bangalore
Very professional and very receptive to feedback. Overall experience was great.
ABS is affordable, very supportive and good company, I'm really impressed.
Rohit Payer
Apsons Resort, Mumbai
Good professional company... Work delivery on time
Jhalak Parmer
Quinn FMS, Mumbai