This short article on Digital Marketing will help you learn - What is Digital Marketing in just 5 minutes. A quick and effective guide to online marketing by ABS Digital Agency In Bangalore.
Grow your website online using the 7 most effective online marketing channels proven to get more traffic, calls, leads, and sales for your business. Let's get started.
What is Digital Marketing?
Digital Marketing or online marketing is the art and science of promoting your business or brand on the internet. It is a strategic way of attracting, informing, and engaging prospects and customers on the web. Digital Marketing helps business websites get more traffic, calls, leads, and sales mainly by means of digital channels and platforms like social media, search engines, emails & PPC ads.
The internet plays a huge role a businesses' growth and success nowadays. From reaching out to new prospects to closing a deal to receiving that payment online everything could be done on the web. Even if you have a traditional offline brick-and-mortar business, you can reach out to your potential clients online via digital marketing channels like search engines & social media.
The long-term survival of any business in the age of the internet is almost impossible if the business doesn't make use of online marketing.
Online marketing includes a variety of activities like:
Inform prospects about your business and brand
Bring online visitors to your website
Encourage website visitors to call you or make a purchase on the website
Build brand reputation and trust by growing your business's social media presence and online reviews
Make your website or business easily accessible to people looking for your products or services online
Practical examples of digital marketing:
Through content marketing, you can inform and educate your prospects about your products and services.
Through social media marketing, you can promote your offline business within a 5 kilometers radius from your store and also increase followers on your brand's social media page.
Through email marketing, you can send a series of emails to your subscribers and customers to increase awareness and trust to drive more sales for your business.
7 Most Effective Digital Marketing Channels For A New Business Website
Below are a detailed explanation and guide to effectively using each of these online marketing channels for your business. This information will also help you decide which channel is best suited for your business.
1. Search Engine Optimization (SEO)
SEO is the process of making your website rank higher in a search result on a search engine like Google or Bing. Higher ranks on the search pages result in an influx of free (organic) high-quality traffic (visitors) to your website.
Benefits of SEO:
High-quality traffic to your website.
Very high Return on investment (ROI).
Increased brand awareness.
Massive boost to brand value and credibility.
Consistent long-term traffic influx.
Businesses that need SEO the most:
Small businesses and startups.
SaaS and service-based companies
Niche stores and websites
Local business for maps search results
Medical, Legal and other professionals
Maintainance professional & handyman companies
Restaurants, bars, and cafes
Want to learn more about SEO? Check out our blogs on SEO.
2. Search Engine Marketing (SEM)
Search engine marketing is basically paid search marketing. This is the primary difference between SEO and SEM, SEO is about getting free search engine results and SEM is about buying search ads to display your website in top search results.
Benefits of SEM:
Get top rank on search pages instantly
Very helpful for new websites to get traffic until SEO kicks in
In the long run, SEM helps improve SEO of a website
A/B testing is possible with SEM but not with SEO
Helps in building a brand image
Businesses that need SEM the most:
All businesses that need SEO could get started with SEM until their SEO starts getting significant traffic. SEM is particularly useful for startups and new business to get as much market share as possible before its competition enters the market.
Get started with SEM - Google Ads.
3. Social Media Marketing (SMM)
Social media marketing refers to marketing activities like brand awareness campaigns, building a brands' fan pages etc on social media platforms like Facebook, LinkedIn, Instagram, Twitter etc.  Social media marketing helps build trust with prospects by building a social community around your business. SMM helps tremendously in growing trust, sales, brand awareness and social proof.
Benefits of SMM
Building trust
Building a loyal fan base
Getting social proof and approval
Driving sales via social ads
Social proof helps improve SEO
Businesses that need SMM the most:
All business require social media presence. Social media marketing is the best way to increase that presence. Though SMM is particularly very helpful for the following businesses:
Niche business
Businesses that need constant & quick feedback from customers
Business with a low marketing budget
New businesses that need to build trust in the market
Businesses that cater to a young generation
4. Email Marketing
Email marketing is one of the earliest forms of digital marketing. It's also one of the most reliable and cost-efficient means of marketing on the web. Email marketing involves direct communication with your audience. You can use email marketing to promote products, discounts, events, etc. It can also be a means of directing your audience to your website.
Benefits of Email Marketing:
Personalized notification service
Follow up communication with customers
Sales promotions and loyalty programs
40% more effective than SMM (Mckinsey)
Long-term marketing campaigns on a limited budget
Businesses that need Email Marketing
Businesses that need marketing with a personal touch
Businesses that sell high-cost products and services which involves lengthy communication stage with prospects.
Local businesses
New businesses that need to build trust
eCommerce businesses
Get started with email marketing - Mail Chimp
5. Content Marketing
Content marketing involves the creation and promotion of informative content for your audience. This informative content promotion will serve the purpose of brand awareness, traffic generation, lead generation, and customers acquisition.
Benefits of content marketing:
Increased brand visibility
Creates loyalty and trust
Helps to build authority and credibility
Provides value to prospects for free
Helps generate new leads
Businesses that need Content Marketing:
SaaS businesses
Consultants
Offline service-based businesses
Online service-based businesses
Big brands use it to improve market share
Learn more about content marketing.
6. Affiliate Marketing
Affiliate marketing refers to marketing carried out by your customers or marketing partners (affiliate partners) on your behalf. Once the deal is closed, the affiliate partner usually gets a percentage of the sale as commission.
Benefits of Affiliate Marketing
Trust building
Social proof
Word of mouth marketing
Zero expense until the sale is completed
Highly efficient. Amazon relies heavily on affiliate marketing.
Businesses that need Affiliate marketing:
eCommerce businesses
Construction & architectural firms
Service firms
It could be effectively used in almost all businesses
Learn more about Affiliate Marketing
7. Pay Per Click (PPC) Marketing
PPC marketing is a type of online marketing where you the publisher every time your ad is clicked. PPC has been gaining traction in the digital world for many years and now is one of the most widely used marketing methods. The most common PPC platforms are Google Adwords and Facebook Ads.
Benefits of PPC Marketing:
Fast results
Measurable results
Precise targeting of audience
Cost-effective
Highly versatile
Businesses that need PPC marketing
Startups and new businesses
Local businesses for Google business search
Service-based businesses
Doctors, Lawyers and other professionals
Want to take your digital marting efforts a step further? Here is a bonus tip for you:
Inbound Marketing
Inbound marketing refers to a specialized content marketing technique where you attract your prospects to your website through high-value free content. Once they arrive at your website or blog, you continue to communicate with them via emails or chat and provide more valued information to the prospect.
Inbound marketing helps you attract potential customers to your business without using disruptive advertising to get your client's attention. This results in the generation of very high-quality leads and helps the ideal customer find your business. Inbound marketing also helps tremendously in building credibility and trust for your business
So which online marketing channel is best suited for your business?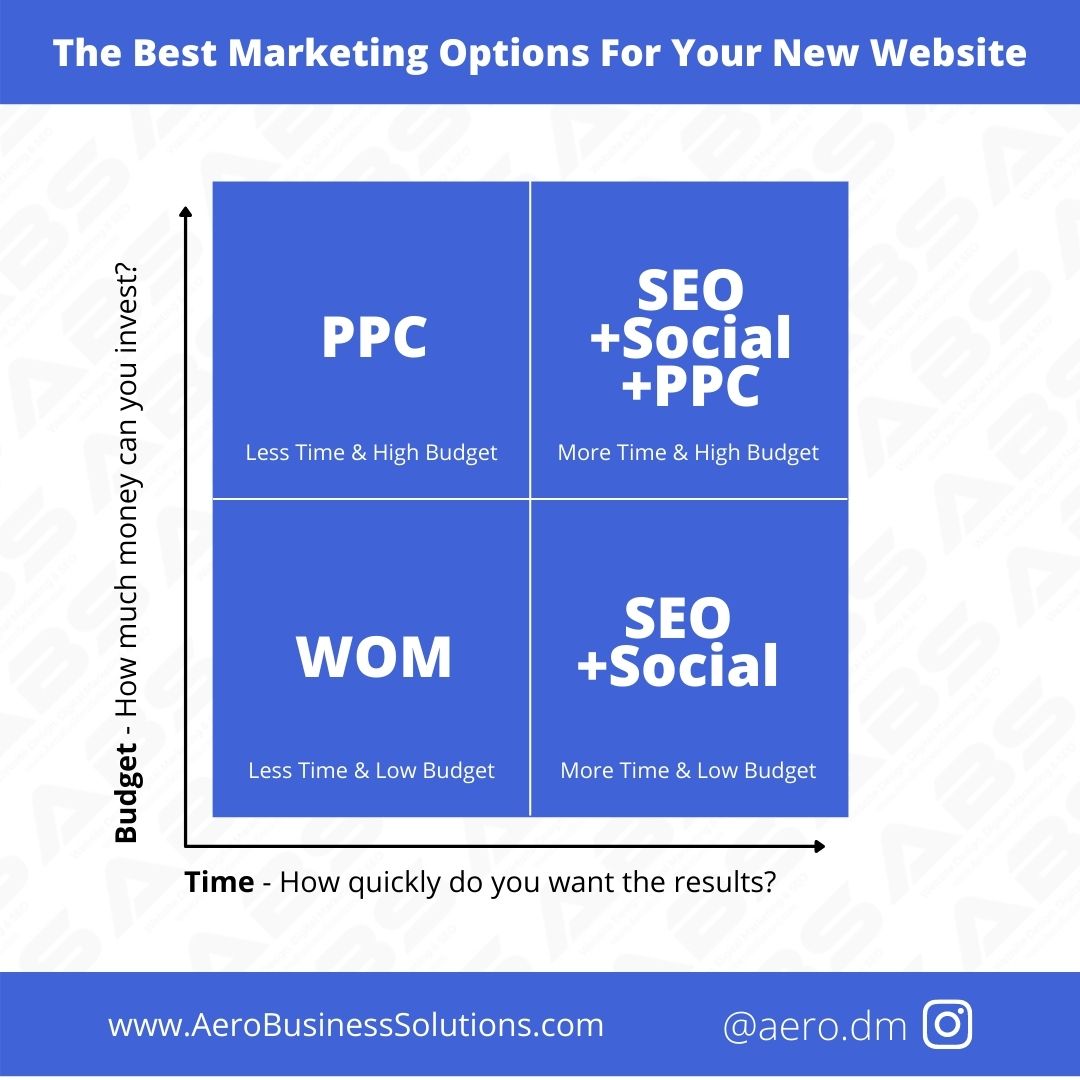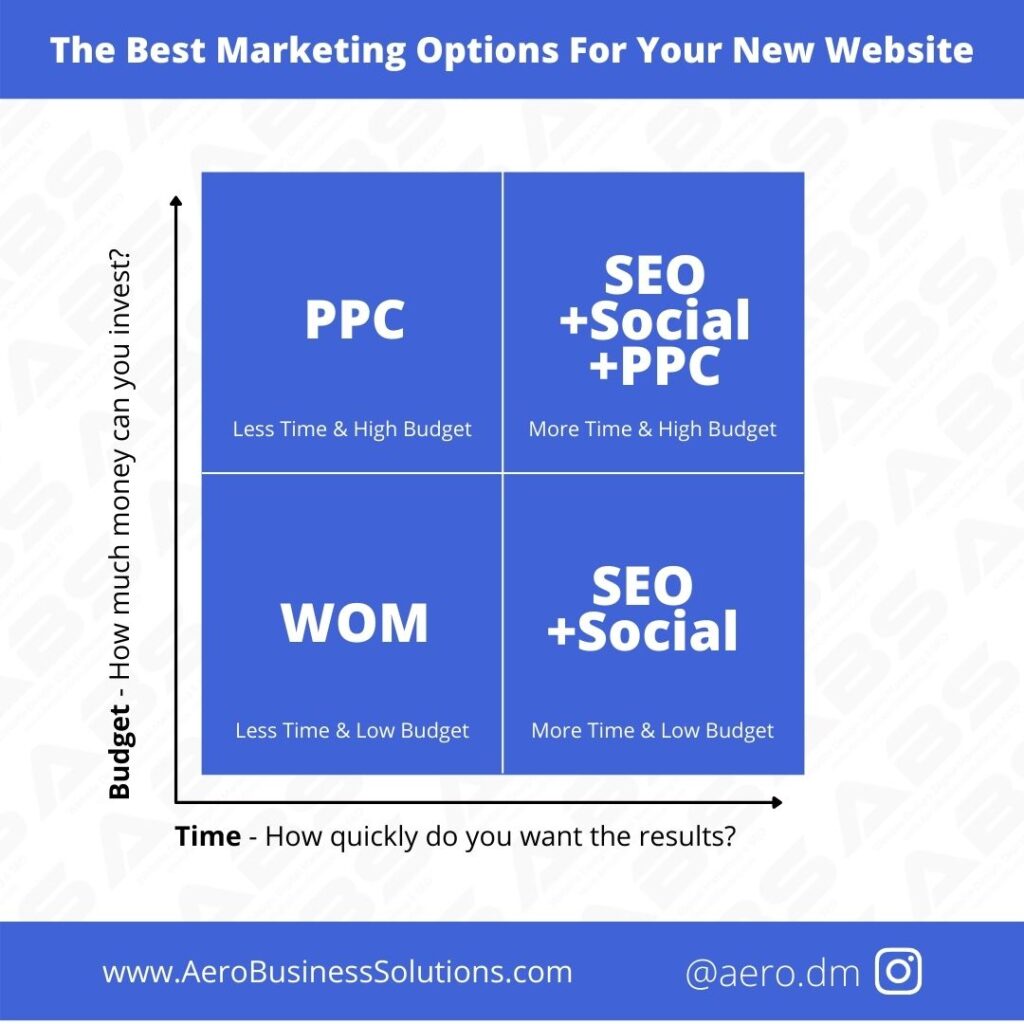 You've launched a new website, now how do you market it?
Here's is a quick guide on how to market your newly launched website based on two important questions:
1. How much money can you spend on marketing?
2. How quickly do you need results from your marketing efforts?
Case 1: Low Budget & Less Time - Word Of Mouth among friends & family.
Case 2: High Budget & Less Time - Online Ads & PPC Marketing
Case 3: Low Budget & More Time - SEO & Organic Social Media Marketing
Case 4: High budget & More time - PPC + SEO + Social Media
The best channel of digital marketing for your business depends on various factors like the type of your business, the stage at which your business is, and also the stage at which your prospect is in the sales funnel. Unfortunately, there is no "one size fits all" solution for online marketing. But, any business will have to use all channels of digital marketing at some point or another in its businesses' journey.
You can narrow down the best online marketing channel by considering the following:
your business type (online or offline)
your business location - do you cater to local, national or global audiences.
your product or service - is it a physical product or a digital product.
your ideal customer - businesses or consumers
the best way to reach your ideal customer - social, search, content, etc
your business model - subscription-based or ...
and many more factors...
Still confused? Get a Free Digital Marketing Consultation from an ABS Expert today.
Wanna dig deeper? Here are the best blogs to learn more about Online Marketing: